Ring in the New Year Downtown with Bank of Utica, the City of Utica and its Public Safety Departments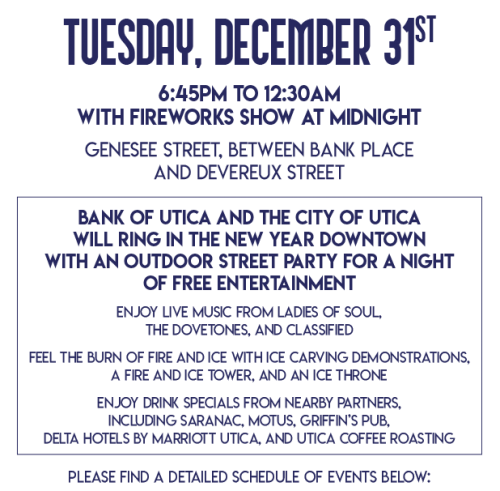 Schedule of Stage Events

6:45 - 7:00
Gates Open - Host Welcome
7:00 - 7:30
Swearing-in Ceremony of Local Elected Officials
7:30 - 8:00
Ladies of Soul
8:00 - 8:15
Host Commentary
 
Ritmo Caribeño – the youth cultural dance group of the Mohawk Valley Latino Association
8:15 - 8:45
Ladies of Soul
8:45 - 9:00
Host Commentary / Year in Review
 
Ryan Bliss Magic
9:00 - 9:30
The Dovetones
9:30 - 9:45
Host Commentary
 
Don – a cultural dance group from the Midtown Utica Community Center
9:45 - 10:15
The Dovetones
10:15 -10:30
Host Commentary / Year in Review
 
UTCA Comedian
10:30 - 11:00
Classified
11:00 - 11:15
Host Commentary
 
Appearance by the Utica Comets and UCFC
 
Spoken Word Artist
11:15 - 11:50
Classified
11:50 - midnight
Host Commentary
 
Countdown and fireworks
12:00 - 12:30
Classified with Lillie Ruth
Schedule of Street Events

Performer
Performance/Duration
Location
THE ICE FARM/Ice Sculpting Demo #1
7:40P / 1-2hrs
State Office Building Plaza
COSMIC KARMA FIRE
8p / 50min - 1 hr
Genesee St near Bank Place
THE ICE FARM/Ice Sculpting Demo #2
9P / 1-2hrs
State Office Building Plaza
COSMIC KARMA FIRE
10p / 50min - 1 hr
Genesee St near Bank Place
Event Parking

Washington Street Parking Garage
Washington St.
Kennedy Plaza Parking Garage
Broadway
Court St. Public Parking Lot
beside the Bosnian Islamic Association of Utica Mosque
Union St. Public Parking Lots
 
Food & Drink Specials
MŌTUS
House made drinking chocolate. $6 Choose which preparation you'd like:
 - Cimarron tequila, cinnamon
 - Grist & saw empire rye, house made caramel
 - Jameson, nutmeg
 - bespoke bourbon cream, house made crème de menthe
 - whipped cream, caramel
NYE Featured Street Food:
House Made Chili, house made cornbread crouton, crème fraiche $6
Chicken & Biscuits, house made biscuit, farm carrot, pea, patterson onion, celery, chive $8
*While supplies last. Indoor seating will be for reservations only
DELTA HOTELS BY MARRIOTT UTICA
Godiva Milk Chocolate and Peppermint Coffee
Adirondack Home Sweet Home Spiced Whiskey Wine
Braised Short Rib
Roasted Cherry Pepper and Bacon Mac and Cheese
Plus...enjoy complimentary hors d'oeuvres with a late night happy hour from 12-2 in the Shade Bar and Grill!
UTICA COFFEE
Regular, decaf and flavored coffee will be offered for $2 a cup—half of every purchase will be donated to a local charity
Chance to win a coffee basket with each purchase
BELLA REGINA
2 for 1 Wine Slushies, Bloody Mary's and Mimosa's
$2 cans
Karaoke/Dance Party with DeeJay Serena
GRIFFINS PUB
Naughty but Nice Irish Coffee made with Jameson Whiskey & Baileys Irish Cream
 Food: Full menu available until 10PM – Apps available from 10PM until 1AM
UTICA BOWLS
Warm up in a cozy lounge while you enjoy Smoothie Bowls with fresh fruit - including wine smoothie bowls, a slice of pizza, soup and Almond Joy and S'mores hot chocolate!
IRWIN'S FINE FOODS
Stop in and enjoy some mushroom stew and macaroni and cheese to warm you up!
PIZZA CLASSIC
Serving the Utica area for 30 years, warm up with a classic slice of pizza from Pizza Classic, or anything else on their menu. Open New Year's Eve from 11 AM – 12:30 AM.
GOLDEN'S
Will be serving their full menu until midnight. Hot chocolate will also be available!
Security Information
• Weapons and fireworks are forbidden at the Bank of Utica New Year's Eve venue.
• Alcoholic beverages, non-alcoholic beverages, and food will be offered for sale within the Bank of Utica New Year's Eve venue.  With that being said, the following provisions have been set:
     o Attendees who wish to purchase and/or possess alcoholic beverages within the venue must be able to brandish acceptable picture identification upon request as well as a designated wristband displayed at all times.
     o Open air possession of alcoholic beverages will be permitted throughout the event's footprint only if contained within plastic cups.
     o Alcoholic beverages of any kind that are purchased outside of the venue will not be permitted to be brought into the event's footprint.
     o Attendees will not be allowed to carry open alcoholic beverages out of the event's footprint.
• Please refrain from bringing bags, backpacks, coolers, packages, or parcels of any kind to the Bank of Utica New Year's Eve venue.
     o All baggage is subject to search by a law enforcement officer or a designated safety and security official who will tag and deem it safe to enter the venue.  If individuals do not wish to have their baggage searched, they will respectfully be denied entry.
• Due to federal regulations which govern their operation in the area of gatherings, drones and unmanned aircraft are forbidden to operate at the Bank of Utica New Year's Eve venue.
• There will be a strong canine presence at the Bank of Utica New Year's Eve venue therefore please do not bring domestic animals to the venue.
• Finally, we ask everyone to be alert and aware of your surroundings. "If you see something, say something", call 9-1-1 or alert law enforcement at the venue for any emergencies.